Finest Traffic is the only program that pays for surfing different traffic exchanges, which is why it's at the top of my bonus program list. It offers other ways to earn, including referring members who upgrade or purchase advertising, but I'll focus on its unique features: the weekly Points Pool and the Challenge.
Points Pool
The Points Pool is straightforward: for every 50 sites surfed at participating TEs (including Finest Traffic itself) you earn one point. The points are updated automatically every hour – there's no need to claim anything. Users are ranked by their point balance that can be viewed by clicking Points Pool > User Ranking: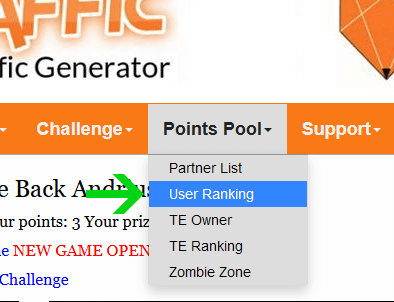 Every Tuesday, a cash prize is divided between users depending on their rank. Essentially, the users compete against each other to receive a higher share. The bonuses are sustainable, because while the number of active surfers may change, the prize remains fixed.
A list of exchanges you get paid for surfing can be viewed by clicking Points Pool > Partner List. It also works as a downline builder, so make sure to add your referral IDs: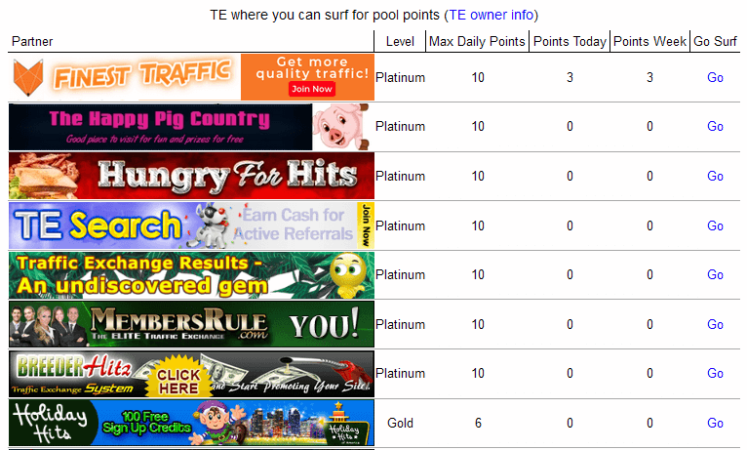 New partner TEs are added regularly, so I won't list them here. There are just two things to remember. First, you must use the same email on every exchange (if your points aren't updating, that's probably why). Second, while 50 sites is always worth 1 point, the daily surfing limits are different. Free partners award points for the first 50 sites surfed, Silver for the first 200, Gold for 300, and Platinum for 500. Feel free to surf more for credits, but you won't receive further points.
Every week, your prize will appear in your Commissions balance:

While free members can only cash out referral commissions, upgraded ones can cash out everything – and it's possible to use your balance to upgrade. Upgraded members also earn extra points by maxing out their daily points at Silver, Gold, or Platinum partners, giving them an edge in the weekly ranking.
Challenge
While the Points Pool is all about cash, the Challenge allows you to earn upgrades and advertising just by surfing. Click the Challenge button inside the members area and you'll see a list of various tasks: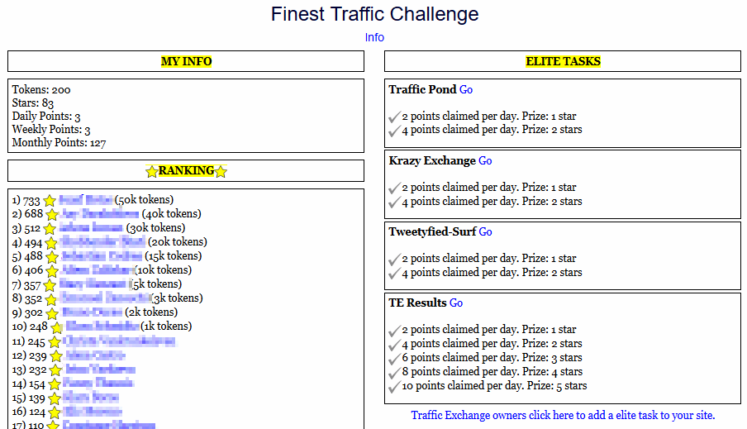 There are two concepts to keep in mind. The first is Tokens. These are earned simply by collecting a certain number of points every day, week, and month. Tokens can then be converted into upgrades or advertising – and Platinum members can even convert theirs into cash.
The second is Stars. To earn Stars you have to complete Premium and Elite tasks by surfing the specified traffic exchanges (which change from time to time). Top 10 Star collectors are awarded an enormous amount of Tokens on the last day of the month. Those below the top 10 get nothing, so if you want to place, you have to diligently complete the tasks every day.
If you're not a member of Finest Traffic yet, give it a try. It won't make you rich, but it's a nice way to earn a little extra for something you're already doing.